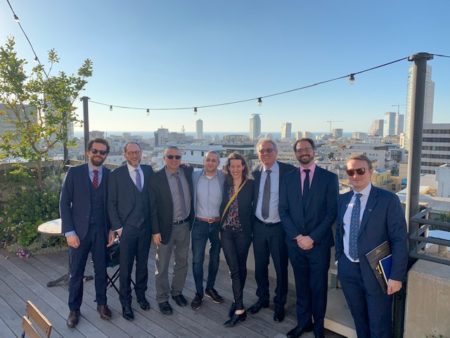 In March 17th-20th 2019 Luxembourg Trade and Investment Office Israel had the honor to host a mission of Luxembourg's Minister of Finance in Israel, Mr. Pierre Gramegna, accompanied by a delegation from Luxembourg with representatives from Ministry of Finance, Ministry of Economy, Luxembourg for Finance, ALFI (Association of Luxembourg Fund Industry) and Lhoft (Luxembourg House of Fintech).
The primary goal of the visit was to connect Luxembourg, with its financial service expertise, with Israeli know-how in the field of financial technology.
The agenda of this visit included sessions and meetings with leading fintech and financial players in Israel, including representatives of the non-profit group Start-Up Nation Central (non-profit organization connects Israeli innovation and international players), SOSA (innovation center and hub TLV based), Citi's and Barclays innovation centers and Accelerators, TLV's Stock Exchange, The Floor (fintech hub) and more.
In addition, in cooperation with Equitech, the leading fintech community in TLV and with collaboration of Luxembourg Trade and Investment Office in Israel, Luxembourg For Finance and Loft, a fintech seminar was held and hosted at Start Up Nation Central dedicated to Israeli startups to discuss the growth of the fintech ecosystem in Europe and in Luxembourg in the context of Brexit.